Ephrata High School Marching Unit
MARCHING WITH CHARACTER, COMMUNITY, & CREATIVITY
Donate Online
Thank you for supporting the EHSMU. Your contribution helps to provide travel, new instruments, and the continued support of our students. Read below to learn more about the exceptional program Ephrata has to offer or click below to donate.
Ephrata High School Marching Unit
EHSMU
The EHSMU philosophy encompasses a focus on 3 C's; Character, Community and Creativity.  Our basic goal is to work together to develop these traits in our members while creating an enjoyable experience for all members.
We are one of the founding members of the Lancaster County Marching Band Coalition .

We are proud to support the Ephrata High School Football team at all games, both home and away. 

We are proud to serve our community in various events thoughtout the season.
Ephrata Area School District has been named one of the TOP 100 communities for music education by the NAMM foundation in 2015, 2016, 2017, 2018, 2019.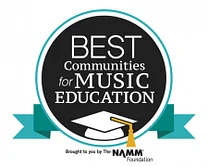 EHSMU BAND PARENT ASSOCIATION
The Band Parent Association is open to all  parents/guardians who have a student in the marching band program (all instrumental players and visual ensemble members). Your input is needed to ensure a continued quality program that meets the needs of our students, staff, family members and community. Even during the "off season" there is plenty to discuss.
Planning takes place year round! Meetings are held on the 3rd Tuesday of the month in RM 116 of EHS. Meetings begin at 7:00pm and generally last  one hour.

The board is made up of volunteer parents. Reach out or join a meeting to find out how you can help. Click to learn more about the board members.